Andrew J. Wassef, M.D.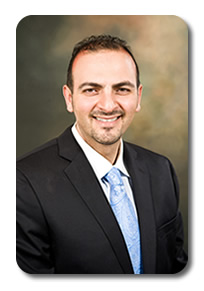 Dr. Andrew J. Wassef is a Joint Replacement specialist at the L.A. Orthopedic Institute who is fellowship trained in hip, knee, and shoulder replacement surgery. He received his medical degree from Howard University and did his residency in orthopaedic surgery at the University of Toledo in Ohio. He completed his fellowship specializing in Total Joint Replacements at the Joint Replacement Institute of St. Vincent Medical Center in Los Angeles. He is a native of Long Beach, CA where he was born and raised.
Dr. Wassef has a special interest in revision surgery, complex reconstructions, and revision of failed total joint replacements. He also has a special focus on joint replacements in the younger population and is trained in hip resurfacing, minimally invasive surgery, and robotic assisted surgery. He received Vital's 2014 Patients' Choice Award and was recognized as Resident Teacher of the Year during his residency at the University of Toledo. He holds professional memberships in the International Congress for Joint Reconstruction, the American Association of Hip and Knee Surgeons, and the American Academy of Orthopaedic Surgeons.